"Which of these 1,800 Hypnotic Conversion Techniques Will Trigger A Dramatic Boost In Your Sales -- Almost Instantly!?"
- Dr. Joe Vitale, creator of Hypnotic Writing and Hypnotic Marketing, star of the hit movie The Secret
Get your copy of the secret manual (once forbidden to be sold online) when you ORDER NOW!
Dear Friend,
How do you convert browsers into buyers?
How do you increase sales at your website?
What are the secret ways to improve what you are already doing to get better results?
All these questions and many more are answered in my latest book:
1,800 Copywriting/Marketing/Conversion Tips:
The Hidden Secret of Making Sales
This book is nothing like anything that I have ever written.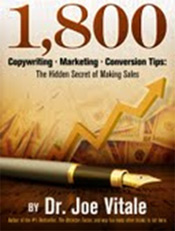 Unlike a mass publication, the ONLY way to get this secret manual is to arrange to have it delivered right to you.
Oh, and did I mention that one major online company refused to sell the manual at all?
It's that red hot!!!
As you know, much of my recent work has been focused almost exclusively on spirituality and teaching the Law of Attraction.
What you may not know is that I was an Internet Marketer and Copywriter long before I was involved in hit movies such as the Secret.
For over thirty years I have been the source that professional marketers turn to when they want to turbo-charge their sales copy, increase website sales and convert prospects to buyers.
In fact, I'm credited as being the
world's first Hypnotic Marketer

.

Lately, I've had this nagging feeling that I had some unfinished business as a Marketer. Perhaps there were some secret techniques that I had yet to disclose.

Well, 1800 to be exact 🙂

That's when I decided it was time to retreat to my secluded office hidden in the Texas hill country and compose my master list. I was like a mad scientist – writing down all of my secret formulas at a frenetic pace.

Once I started I couldn't stop.

When the dust settled, I looked down at my paper and didn't see mathematical equations but something much more valuable to you and me.
1,800 Hidden Secrets to Making Money!!!
Think of this manual as your Sales Oracle. Flip to a page and select a tip at random, or one that resonates with you and implement it. It's as easy as that.
You have 1,800 to work with, and any one tip has the potential to have a profound impact on your sales and bottom-line.
Are you experiencing writers block?
Are you having challenges partnering with the right affiliates or helping them drive revenue?
Are you having problems converting clicks to sales revenue?
Are you challenged coming up with new ideas to promote your product?
Do you want to build more rapport with your list?
How to integrate Social Networking in your message?
Once again, consult the Oracle (1,800 Conversion tips) and find your answers

As a test run, this book was recently shared at a marketing class in Wimberley Texas. The students were blown away and couldn't wait to implement the tips.
Not to mention, they couldn't believe I was sharing so many of my secrets.
In truth, I don't plan on sharing this with the general public, nor other large marketers. This offer will be for a handful of people, like you, that act now.
To think what this book could have meant to my career if someone handed it to me in the early 90's. Well, I'm doing just that for you today. It's never too late to implement these timeless techniques on conversion.
Importantly, many of the tips apply to off-line or non internet businesses as well.
I've seen some top companies use many of these techniques in print ads, commercials and national campaigns. And these are the big boys that are spending millions on their marketing and advertising campaigns.
Think of what it could mean to your business!
I recommend that you keep your 1,800 conversion techniques handy for all of your sales efforts. Think of this as a swipe file on steroids. It represents not just words but actionable ideas!
If you are like me – you will want to use it as a quick reference guide for all of your sales efforts. It's that powerful!
30-Day Money Back Guarantee
Similar to all of my products, your absolute satisfaction is very important to me. As such, if you are not satisfied with the book you can get a full refund...no questions asked.
This book is a rarity...
You have very little risk and unlimited upside!
I encourage you to fill out the form below and order this book now!
Start your order now! Click the Add To Cart button below.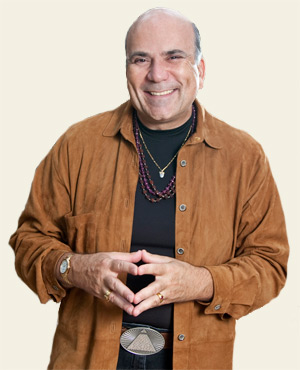 Remember, the manual will be your exclusive copy...
When it arrives in your inbox, please keep it to yourself.
Let it be our little secret.
Yours for Success! Dr. Joe Vitale. www.MrFire.com
PS - As a final note, I used several of the tips in the book to write this letter 🙂 Can you spot what I did?