When people ask me, "Where do I begin?"...
"This is where I tell them to come" - Dr. Joe Vitale
Order your right now for only $9.95 plus $3.00 shipping and handling!

Click the Add To Cart Button below.
Attract The Money You Want For:
| | | |
| --- | --- | --- |
| | You will also get access to my 3 part video on Attracting Money Now! | |
| | | |
| --- | --- | --- |
| | ...And a DVD copy of the hit movie The Secret! | |
Dear Friend,
The Attract Money Now hard cover version reveals an easy, proven, 7-step formula you can use today to begin attracting money, getting out of debt, and ending the struggle once and for all.
In the pages of this fast-reading, inspiring new book, Dr. Joe Vitale -- bestselling author and star of the hit movie The Secret -- walks you through his easy system for attracting money using the Law of Attraction and Law of Right Action. 
In Attract Money Now, you'll learn… The Proven 7-step formula to attract money FAST that will work for YOU.
How to conquer key hidden beliefs that are pushing money away from you
How to use the proven "tapping" technique to get cash flowing fast
One of the best-kept secrets of the wealthy for attracting money easily
How the rich think differently than you regarding money
A brand new secret for spending in a way that leads to attracting money
The two amazing little-known levels of asking for money – that always work
How to set up multiple streams of income based on doing what you love
The one thing to do that will ALWAYS lead to more money
| | | |
| --- | --- | --- |
| | AND 29 ways to Attract Money NOW! | |
This exclusive 7-step formula took Dr. Vitale more than 20 years to perfect. It's the same foolproof system that helped Joe go from homeless on the lonely streets of Dallas, to a bestselling author and financially free multimillionaire in just a short time.
Dr. Vitale's system has nothing to do with real estate, investing, or saving for a rainy day. Instead, Attract Money Now reveals a spiritual and practical way to erase limiting beliefs, do what you love, and get into the cash flow that makes life easy and luxurious for all.
You'll love reading this refreshing book that frees you to have the life you want -- for yourself, your family, and the world.
Love,
Joe
| | | |
| --- | --- | --- |
| | $9.95 plus $3.00 Shipping and Handling | |

Order Today and Start Attracting Money Now!
Check out what these amazing folks have to say about Attract Money Now.

| | | |
| --- | --- | --- |
| | $9.95 plus $3.00 Shipping and Handling | |
Order Today and Start Attracting Money Now!

---
Meet Dr. Joe Vitale Bestselling Author Joe Vitale, is known as The World's Only "Spiritual" Marketer.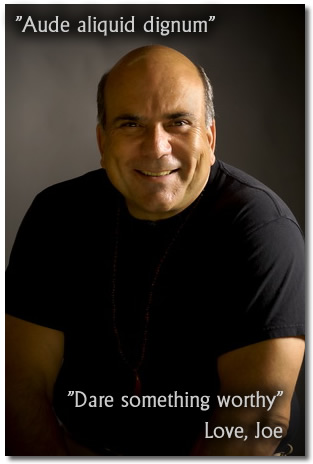 Combining his unique, one-of-a-kind charismatic/inspirational style, and exclusive five-step "attraction" system, Joe has successfully coached thousands of people, through his seminars, books, DVDs, webinars, and TV/radio appearances, on the "law of attraction." Thousands of testimonials from all over the world prove Joe's 5-step method for attracting wealth, health, love, and happiness work.
His system has helped countless people become millionaires and find happiness. Joe's system is so effective, he was asked to co-star in the world-famous movie "The Secret," as well as contribute to the book.
Joe Vitale developed his 5-step system when he went from literally being homeless, living on the streets of Houston, to becoming one the most prolific writers and entrepreneurs. Now he is financially independent living the life most only dream about. His life's mission is to help others to do the same.
Joe Vitale is a much sought-after public speaker, speaking to thousands of people annually at prestigious events including the Learning Annex expo and the National Speaker's Association among other large-scale events.
He's also one of the most sought-after media interviews. His most recent interviews include, Larry King Live, The Big Idea With Donny Deutsch, Extra TV, and Newsweek magazine.
Joe Vitale is also a passionate philanthropist and humanitarian, working with many private and public organizations.

---
As a writer, Joe Vitale has written many bestsellers on the Law of Attraction, including…
The Key : The Missing Secret for Attracting Anything You Want
The Attractor Factor : 5 Easy Steps for Creating Wealth (or anything else)
Life's Missing Instruction Manual : The Guidebook You Should Have Been Given at Birth
Zero Limits : The Secret Hawaiian System for Wealth, Health, Peace, and More
Spiritual Marketing : A Proven 5-Step Formula for Easily Creating Wealth from the Inside Out
How to Attain Your Desires : How to Live Life And Love It
Adventures Within : Confessions of an Inner-World Journalist
The Seven Lost Secrets of Success
At Your Command : The Famous Mystic's Universal Recipe for Success in Any Situation
The Successful Coach : Insider Secrets to Becoming a Top Coach

---
Joe has also starred in and produced CD/DVD programs teaching his amazing 5-step program including…
The Missing Secret Home Study Course:

How to Use The Law of Attraction to Easily Attract What You Want … Every Time
The Missing Secret:

Lecture Series Volume 1&2
The Subliminal Manifestation Series

Forgiveness and Love
The Subliminal Manifestation Series

Fear-Less: Transcend and Break Through Fear
The Subliminal Manifestation Series --- Accumulating Wealth

Magnetizing Your Unconscious Mind for Prosperity
The Attractor Factor Blueprint Essential DVD Study Course
The Beyond Manifestation

Spiritual Growth System
Joe also is the founder of the "Miracles Coaching" program. This is the only program dedicated to teaching thousands of people, through one-on-one coaching, how to use the Law of Attraction to create miracles in their lives.